11 May 2021
The PA Show Team - Meet Hasan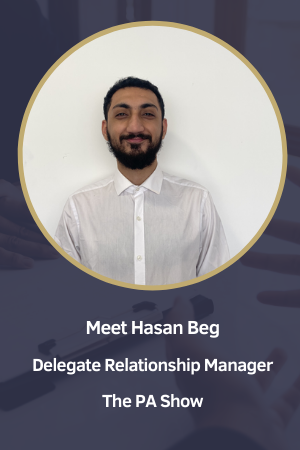 Get to know our Delegate Relationship Manager, Hasan Beg
What attracted you to working in customer services?
I'm an outgoing person that takes joy in interacting with all different types of people throughout the day. If I can provide someone with the help they need whether it be to do with their career or not, I find that assisting them is very fulfilling.
What have you learnt about the PA community?
The PA community is one filled with kind-hearted hard workers. It is a community full of organised, intelligent individuals that manage not only their time well but also that of others. I've noticed that they can often be under appreciated even though without them, their workplace wouldn't be able to function. The PA community is one that keeps the cogs turning and should get the recognition they deserve.
What are you expecting from The PA Show 2021?
A great show. I'm looking forward to seeing the individuals from the PA community coming together and networking safely after having spent so long in lockdown. I expect to see a live event that is not only bringing people together but giving people the power to future proof their careers and benefit their businesses.
What do you love about attending live events?
The thrill of interacting with new people, networking, spreading joy and taking in the energy and passion from those that are attending in high spirits. All things that I believe are human nature.
What is your biggest achievement?
The next thing I do will be my greatest achievement.