PA LIFE CLUB TURNS 10!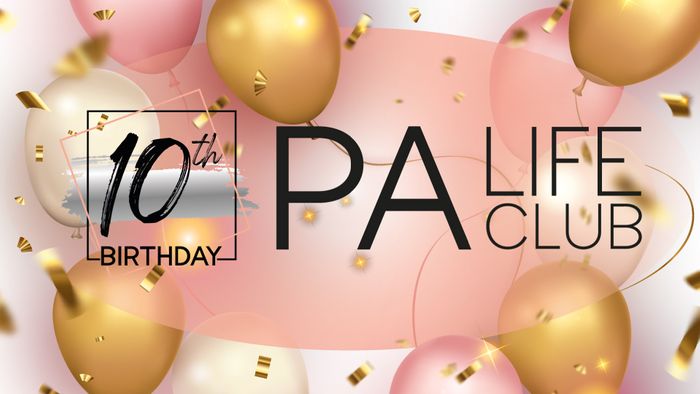 PA Life Club is celebrating its 10th anniversary and we will be celebrating this huge milestone throughout September and October, starting with a fantastic membership offer for all new members who join the club by October 31st. We are welcoming all professional assistants to take advantage of the 20% discount, making the annual membership just £39, when using code BDAY10.
PA Life Club has had a great 10 years of offering assistants the opportunity to network with their peers, receive VIP invites to FAM trips and Meet Ups at top venues – on average three a month – plus access to over 100 courses at discounted rates, a concierge service via Arctic Fox, partner offers, competitions, advice and interviews from other professional assistants and a full subscription to PA Life magazine, as well as to our monthly club newsletters.
All this calls for a celebration and we are throwing a party on September 8th, right after our annual PA Life Summit . All delegates and suppliers are invited and we'll kick the party off at 4:45pm, after the official programme of the Summit ends. All our current PA Life Club members are on the guest list and we also warmly welcome new members to join us too.
Here are some of the highlights from PA Life Club's busy autumn programme:
Aero, operators of semi-private jets and private charter flights, hosts an evening at Soho Residence on October 6th
GO Sport Travel, corporate hospitality packages experts' Meet Up in Westminster, October 11th
Butlin's Conferences & Events' OktoberFest weekend FAM Trip to PA Life Club members and their partners, October 14 – 16th
Church House Westminster hosts a breakfast to showcase their multi-purpose venue on October 21st
Eastside Rooms and Aloft Birmingham Eastside are showcasing Birmingham's newest conference centre with an overnight stay during a FAM Trip on November 10 – 11th
PA Life Christmas party at De Vere Grand Connaught Rooms on November 29th
For more information about PA Life Club please visit https://palife.co.uk/pa-life-club/
You can read our latest stories, including the digital version of our magazine at: https://palife.co.uk/
The next issue of PA Life magazine is out early October, will include special features on Corporate Hospitality, Christmas Parties, Corporate Gifting and Destination Scotland as well as expert articles on wellbeing, career development and events.