20 Jun 2023
NQ64 Opens in Shoreditch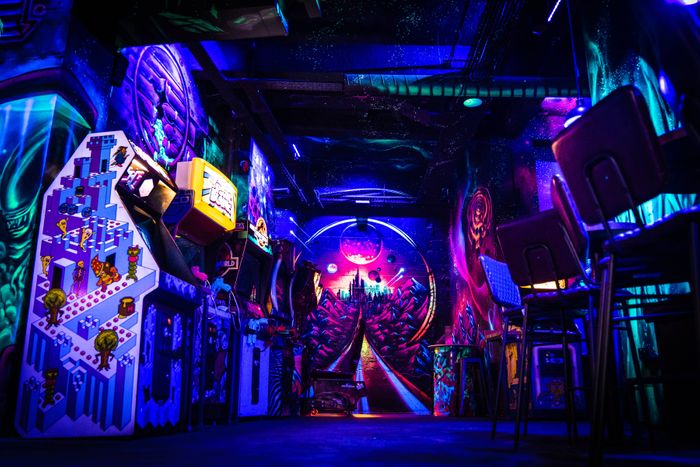 NQ64's latest arcade bar sees them bring retro gaming, cocktails and burgers to East London in their biggest site to date
NQ64 has opened its biggest site, and first to serve food on east London's Old Street. Their latest arcade bar is a 9000 square foot 'neon splattered drinking den' filled with over 50 nostalgic and classic arcades and consoles sourced from across the globe, including fan-favourites such as Pac-Man, Mario Kart, Guitar Hero, Time Crisis and Point Blank, with SNES, MegaDrive, Gamecube, Xbox and PlayStation on the console line-up.
As the first site in the brand's portfolio to serve food, NQ64 have teamed up with Manchester's Burgerism, to offer a menu of premium smashed patty and fried chicken burgers, chicken wings, and seasoned skin-on fries. As one of the biggest online burger brands in the UK, Burgerism serves over 10,000 burger fans per week and became the 2nd most delivered burger on Deliveroo and the 8th most delivered item in the UK in 2021.
The new site follows the brand's signature neon graffiti decor and features their menu of game-themed cocktails including the 'Power Star Martini', 'Lake Springfield', 'Mega Daisy', 'Mad Max' and 'Kong Island Iced Tea'. Beer on offer includes favourites such as Asahi Super Dry and Beavertown as well as from craft brewers such as Deya and Cloudwater. For the retro drinkers out there a wide selection of Hooch flavours is also on offer.
The new bar's stand-out feature is its slide entrance, which transports guests from the ground floor into the basement below. The site also has plenty of bookable spaces and DJs 7-nights a week.
Founded in 2019 in Manchester by Andy Haygarth and Matt Robson, NQ64 is a neon graffiti-covered drinking den where guests can enjoy retro arcade games and classic consoles alongside a curated list of game-themed cocktails and craft beers, accompanied by a classic hip hop playlist.
Matt Robson, co-founder of NQ64, said, "We're buzzing to open our much-anticipated Shoreditch location! The team have worked hard to make sure this is a cool space for drinking AND eating, as well as playing retro arcades and consoles. As our biggest site to date, we're excited to be able to bring Manchester legends, Burgerism, with us to keep our guests fuelled up for late-night partying and gaming. We hope the people of East London love this venue as much as we do!"
The venue will be open seven days per week.
For all queries and bookings, please contact: shehzad@nq64.co.uk