An amazing prize from PA Show exhibitor hampers.com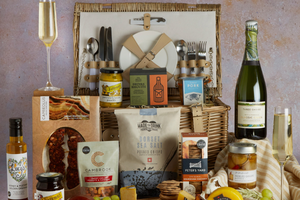 A huge congratulations to the winner of the luxury hamper competition we held at Executive Support Live last month. Harriett Chandler-Bird, PA at huboo has won an amazing hamper courtesy hampers.com.
The fabulous hamper included delectable treats such as Classic Cuvee English Sparkling Wine, Snowdonia Beechwood Cheese, Tracklements Caramalised Onion Marmalade and so much more.
Hampers.com gift hampers are 100% carbon neutral, and filled with excellent food and drink from hand-picked makers and producers. They offer a range of bespoke and branded solutions, for a unique gifting experience.
Whether you're looking for a perfect gift for your employees, or a grand gesture to send to clients, there are hampers to suit every budget - and if you need a little inspiration, the Gift Experts can help you with their top recommendations for clients and staff.
Our readers can also bag themselves 10% off a hamper using the code PASHOW10 so check them out for your next corporate gift (or gift for yourself) today!
Don't forget to come and see hampers.com on 2 November 2022 at the PA Show Canary Wharf!