Exhibitor Spotlight - Travel Counsellors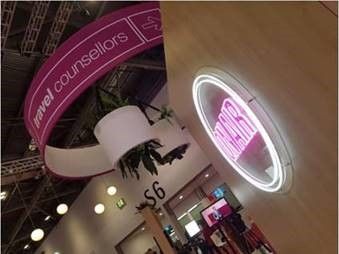 Following record corporate sales, Travel Counsellors announces strongest ever programme for the Business Travel Show Europe
(20 June 2022) Following a record £4.5 million corporate sales in May, leading and multi-award-winning independent travel company, Travel Counsellors, has announced a strong programme and line-up for the Business Travel Show Europe (BTSE), taking place at ExCeL London 29-30 June.
Following Travel Counsellors' most recent award win – TTG's Top Business Travel Agency 2022- several senior members of staff will be at stand H21 to further strengthen the profile of Travel Counsellors as a leader in corporate and business travel. Some of the staff who will be present at the show include Kieran Hartwell, managing director, corporate; Jim Eastwood, global sales director; and Matt Harding, head of franchise sales.
They will be joined by a group of corporate Travel Counsellors; key airline, accommodation, ground transport and technology partners; suppliers; travel trade media; and other industry leaders. These include Clive Wratten, chief executive officer at the Business Travel Association (BTA); Claire Steiner, board member of Institute of Travel and Tourism (ITT); and sales and country leadership from a variety of global technology, airline, and ground transport partners.
These and other guests will be able to join the extensive programming that Travel Counsellors will broadcast live on TCTV (Travel Counsellors Television) throughout the two-day show. A variety of interviews and roundtables will take place from the special TV set featured at stand H21, which will be shown live to the TC community globally.
May 2022 saw record numbers for the corporate travel specialists at Travel Counsellors, who traded at 105 percent compared to 2019 levels. The company expects to see these figures continue to rise due to new client acquisition, flexible operating models and new Travel Counsellors dedicated to business travel.
Kieran Hartwell, managing director, corporate at Travel Counsellors said: "We are coming to this year's BTSE show stronger than ever, having exceeded £4 million in corporate sales twice so far this year. With a varied mix of staff and guests at our stand, we encourage everyone attending the show to pop by and find out what makes Travel Counsellors unique in the corporate and incentive business travel sector – including a dedicated Business Travel Counsellor on each account and leading edge technology."
For further information about Travel Counsellors, please visit: http://business.travelcounsellors.com