Exhibitor Spotlight - Sayhey Gifting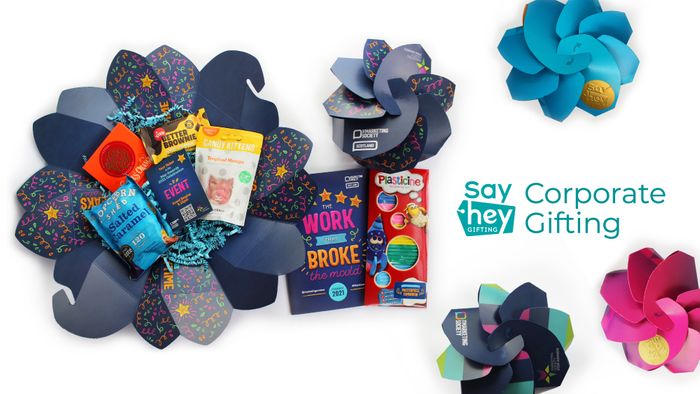 Sayhey Gifting offers thoughtful gifts, creatively packaged. Our completely unique and customisable gift box was designed by our
founder Craig who wanted to create a new gifting experience that would stand out from the crowd.
When designing our box we took extra care in creating something memorable and want your recipient's gift to feel special when they receive it. Opening a gift should be a fun experience right? So why not send a gift that is unlike anything seen before. We always like to say 'think outside the square box!'
We also offer a letterbox range which can be fully branded and is a convenient alternative. Depending on your brief, we can advise which box style would suit you best. We love to collaborate with our clients to ensure we create their perfect gift box together.
Our signature 'swirl' box can be fully designed and printed with your branding to create your own unique corporate gift. Our Letterbox also has multiple customisation options to choose from. With our in-house design team, we can help with the overall package including the box design, gift cards and any other promotional material. Design, fulfilment, product sourcing and delivery all in one place. We can offer different levels to suit all budgets so please get in touch to discuss the options.
If customisation isn't for you, don't worry we have our beautiful 'Sayhey' branded swirl box and Letterbox which can be used to send your gifts.
We carefully select a wide range of quality products that are unique, delicious and eye-catching to complete your gift box. You can choose from a selection of ready-made gift sets or have fun looking through our product selection to build your own set. Our choice of products include various confectionery and food items, novelty socks, beauty products, stationery, candles and more.
We're sure we can help with all your corporate gifting requirements so if you want to impress your clients and treat your employees come and "Sayhey" at stand 39 or check out our website
https://www.sayheygifting.com/