Exhibitor Spotlight - Premier Inn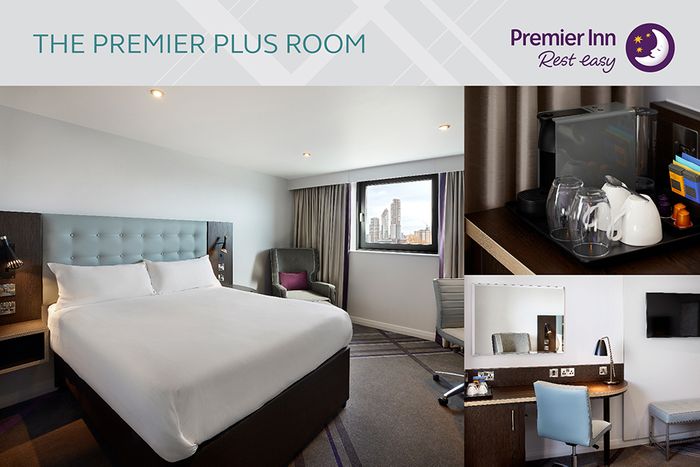 Our best rooms with all the perks
Premier Plus rooms have been created by our team of sleep experts who have worked hard to take everything guests love about our Standard rooms and boost them with some extra perks. Perfect for when you want just a little bit more from your stay, these additional perks provide extra comfort, convenience and connectivity.
More comfort – Enjoy an enhanced workspace, comfy armchair, air conditioning, flat-screen TV, a rainfall shower with luxury toiletries and a vanity area with a stool and hairdryer
More convenience – There's a mini-fridge with complimentary water, Nespresso machine with pods, tea bags, chocolate treats, plus an iron and ironing board
More connectivity – With Ultimate Wi-Fi, a stronger connection than our standard Wi-Fi allows for faster downloads
Whether travelling for business or leisure, Premier Plus rooms can be found the length and breadth of our UK locations, including London, Glasgow, Newcastle, Manchester, Bath and more.
Currently there are over 100 Premier Inn hotels with Premier Plus rooms. Recently opened locations with Premier Plus rooms include the first Premier Inn hotel on the Channel Island of Guernsey, the largest London hotel in Paddington Basin and Oxford Westgate. Now with over 2000 rooms open, even more will be available over the next six months and beyond.
As part of our Force for Good programme, we're also committed to improving the local communities we're based in and Premier Plus will play a big part in that. We've collaborated with Project Art Works: a collective of neurodiverse artists and activists to feature beautiful, specially selected prints in our Premier Plus rooms. We want to provide a national platform for these artists to tell their stories, and we feel our Premier Plus rooms are an exciting way to promote that cause.
To find out more about our Premier Plus rooms and which sites have them, please visit our Premier Plus page. Premier Plus rooms are available to book through our online booking tool, Business Booker, or your preferred booking channel.