19 Jul 2023
Your Excellency Launches Lunch n Learn Live Sessions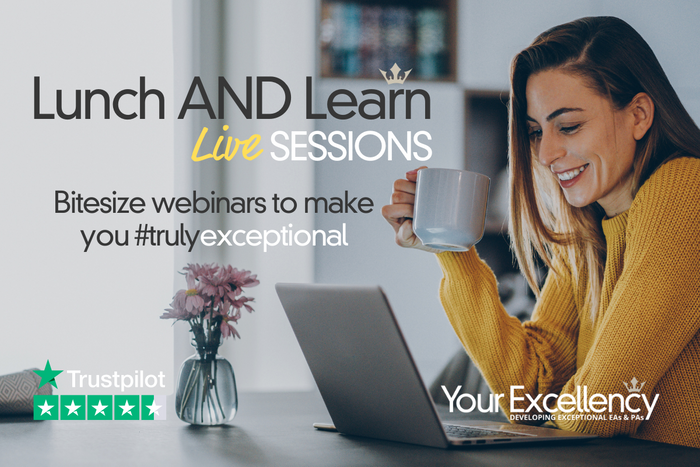 Global Learning Academy Your Excellency Limited have announced the launch of their Lunch n Learn LIVE sessions to support the EA/PA community. An exciting line-up of monthly 60 minute sessions kick off in September and cover hot topics including AI, Communication and Project Management.
Your Excellency, with 16 years' expertise as learning and development specialists, are renowned for providing instantly useable skills for EAs and PAs who value high quality, professional training. Their offerings include the industry-first Mini MBA for Senior & Executive Assistants Programme and The Essential PA Programme which incorporates an Ofqual regulated qualification.

Co-Founder & Director, Lindsay Taylor who is a former EA herself, commented
"We know how important it is to canvas the opinions of the EA/PA community when it comes to training provision. We need to know what you want and what barriers you face where learning and development is concerned, so we can develop our offerings in line with this. In late 2020 you asked us for a Programme for Senior & Executive Assistants that covered strategic know-how, management and leadership. We listened to you and developed our Mini MBA Programme for Senior & Executive Assistants. To date this Programme has seen over 200 Graduates benefit from the learning with over 50% securing new roles and responsibilities. Our most recent survey highlights the want for live webinar sessions at an affordable price point for those of you who have to fund your own learning. So, we've listened to you again and can't wait to kick off the Lunch n Learn LIVE sessions."
More details on Your Excellency's Lunch n Learn LIVE sessions can be found
here.