17 Nov 2021
Countdown to Christmas with Pact Coffee's 2021 Advent Calendar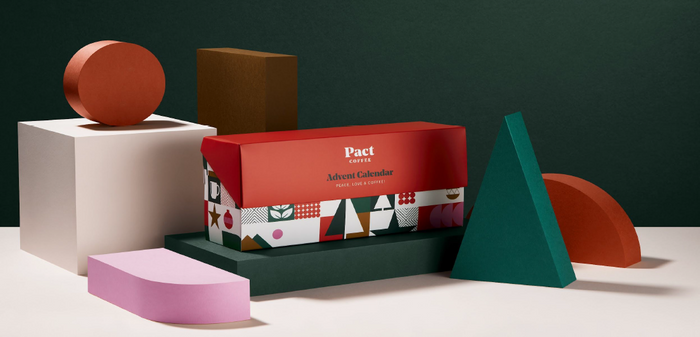 Pact Coffee, one of the UK's leading speciality coffee roasters, is inviting customers to celebrate peace, love and coffee this Christmas.
Their latest advent calendar release takes coffee lovers around the world with 25 specially selected coffees designed to spark joy.
From chocolatey, darkly-roasted Brazilian coffees to extremely rare and fruity Micro-Lots, each coffee featured is 100% speciality grade quality and ethically sourced from a community of farmers across 9 origins. Pact is proud to pay the community of farmers it works with great prices for great coffee - 65% above the Fairtrade base price (on average).
Each coffee included in the bright, geometric print Advent Calendar has been freshly-roasted and ground to perfection at Pact's independent roastery in Haslemere, Surrey. The coffee included in each sachet is designed for filter coffee brew types (AeroPress, Stovetop, V6O, Cafetiere) and makes enough for one cup per day.
Last year's Advent Calendar sold out in record timing, and Pact is expecting the 2021 release to prove even more popular. Priced at £29.95, the advent calendar packaging is 100%
recyclable, so it's the perfect gift option for the sustainable consumer.
Pact Coffee hit the streets and airwaves of London this month with their provocative advertising campaign inviting consumers to learn more about the problems in the coffee industry and to 'make a Pact' to fix them. The business is on a mission to transform the coffee industry with better farmer pay, better practices and better quality brews. Every advent calendar purchase will help Pact's community of 124+ farmers to enjoy a better quality of life.
Pre-order the advent calendar from 27th September direct from Pactcoffee.com.