26 Oct 2023
Blue Orchid Hospitality successfully exhibited at The PA Show Autumn 2023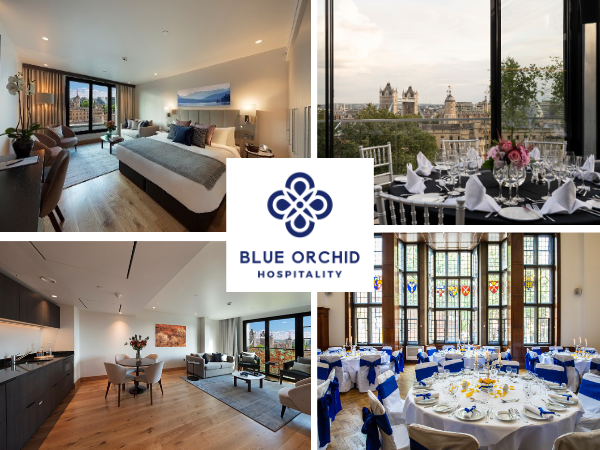 Commanding sweeping views over the River Thames, Tower Bridge and the Tower of London, Tower Suites is one of the most scenic 5-star hotels in London. Attendees visited their stand for a chance to win a complimentary night stay at the award-winning Tower Suites, courtesy of Blue Orchid Hospitality.
Offering a diverse range of accommodation, hospitality, gyms, spas and meetings, conferences and events venues, Tower Suites is located in the heart of the city's famous business district and with easy access to Canary Wharf, the Square Mile, financial heartland and London's most vibrant tourist attractions: a perfect base for a productive stay in the capital. Guests can enjoy independent living inside each of the 273 elegant suites with fully equipped kitchens and lounges whilst having access to the myriad facilities and services of a 5-star hotel in London. Recognising the burgeoning trend for independent living and personal space, Tower Suites is perfect for long or short stays.
Tower Suites hosts London's latest addition to private roof top venues – The Skyline London. Boasting stunning panoramic views of London's iconic skyline, The Skyline London is fast becoming one of London's most sought after event venues. Catering for up to 300 people, with a retractable roof and state-of-the-art technology, the versatile space allows for a diverse range of meetings, events and conferences and offers a stunning setting in the heart of London.
Tower Suites is one of the award winning properties within Blue Orchid Hospitality. Blue Orchid's collection comprises of hotels, suites, apartments, residences, venues, and restaurants in leafy Westminster as well as the City of London. Featuring some of the best located properties in the capital, Blue Orchid Hospitality skilfully blends a wealth of history and local tradition with contemporary luxury.
Whether you're in search of luxury central London hotel suites, independent living in sumptuous apartments or elegant residences, Blue Orchid can satisfy the most discerning guests in search of the very best central London accommodation. Carefully combined with state-of-the-art events, meetings and conference venues together with sophisticated restaurants and bars, Blue Orchid Hospitality offers a diverse range of opportunities to suite a wide variety of tastes and demands. You will always find interesting architecture, exquisite furnishings and warm, friendly and attentive service - the hallmarks of Blue Orchid Hospitality.