Avery launches a virtual 360 tour experience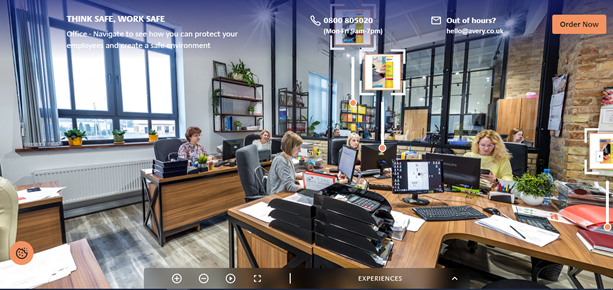 Avery is here to offer you unbeatable, durable solutions to help you manage a safe and efficient working environment.
Avery's newly designed virtual tour will allow you to navigate between different working environments as well as illustrate the ways in which Avery can assist by making your lives a little easier.
What's included?
Around each of the 7 working environments we have placed 'hotspots' to demonstrate how our products can support you to protect, remind and provide a safe and secure working atmosphere.
The 7 working environments placed on the virtual tour include:
Helping you navigate to see how you can protect your employees and create a safe environment.
Allowing you to see ways in which you can improve safety for both your customers and employees.
Helping you to protect, organise and secure your environment
Pharmaceutical and Chemical
Providing you label solutions that can enhance safety awareness and product durability.
Guidance on how you can provide a secure environment for your customers and employees.
Bringing you labeling and signage solutions to make your environment easier to manage
See how you can provide a pleasant and secure working environment with our industrial labeling solution.
For more information on the virtual tour, visit https://averythinksafe.com/. For more information on Avery, visit https://www.avery.co.uk/.

About Avery
Avery is the world leader for software-driven digital printing solutions for millions of small businesses, schools and at home consumers. Making it the most recognized brand in the industry offering more than 1000 products in the UK.