05 Jul 2021
An interview with PA Show exhibitor Park Regis, Birmingham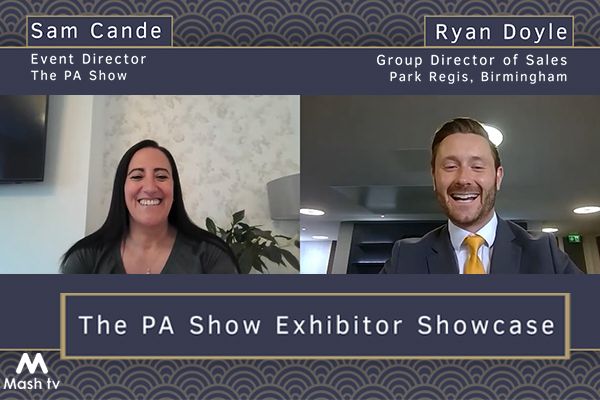 The PA Show Exhibitor Showcase
The doors open for The PA Show 2021 on the new dates of the 1-2 September 2021 with the Executive Support Community once again coming to source new suppliers, learn from the industry superstars and gain career perspective and personal development skills.
One such supplier joining this year as an exhibitor is Park Regis Birmingham. Event Director, Sam Cande talks with Group Director of Sales, Ryan Doyle, as they get set for the show this September.
Check out the video interview here - https://youtu.be/IfMxUF0LN7E
Park Regis Birmingham extends an impressive welcome to its guests. From our glittering lobby to impeccable rooms and suites, with 253 guest rooms, renowned restaurant and bars and a relaxing luxury spa on site, you can even mix business and leisure for a most enjoyable experience.
When it comes to creating the perfect meetings & events environment, Park Regis Birmingham's dedicated event suites offer a wealth of facilities to suit a range of events and capacities for up to 400 people.
Come and see them at The PA Show on stand E10P - https://www.parkregisbirmingham.co.uk/
Registration and enquiries
Register here for your FREE delegate pass to access the presentations and exhibition. Your delegate badge will give you access to selected conference sessions and training, premium suppliers on the exhibition floor, and the chance to expand your network - via both the networking app and onsite in a Covid-safe environment.
Alternatively, you can supercharge your experience by registering for your full conference pass.
For exhibition sales enquiries, get in touch here.
Covid-19 statement
The health and safety of our visitors is of paramount importance and we will be introducing a rigorous programme of measures through the event to sure ensure our attendees feel safe and comfortable. We are implementing new and existing partnerships and collaborations to implement maximum safety. Ultimately, exhibitions have the benefit of being strategically organised with data insight from previous iterations, meaning we are best placed to bring together our industry safely.