24 Aug 2021
AMTEvents create intelligent events that inspire, achieve and drive the immersive experience.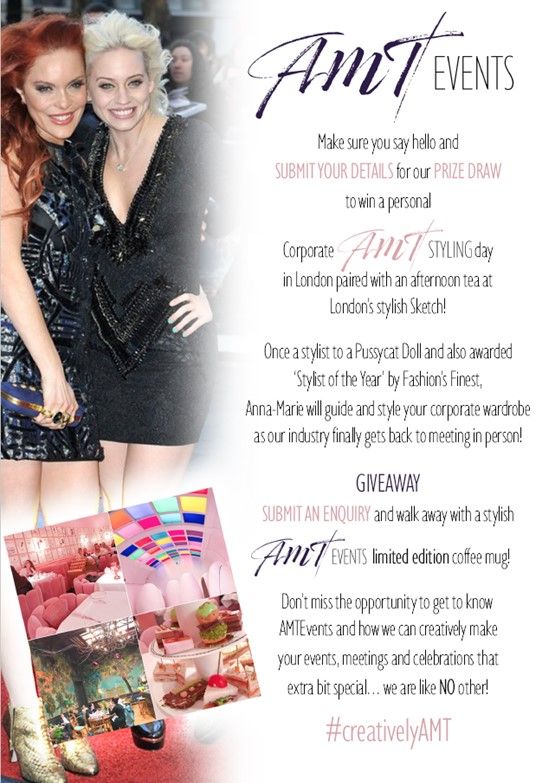 AMTEvents is aBoutique Creative Events Management Agency based in the UK working globally and specialising in design.
We produce events for various industries in B2B including Fashion, Financial, Private Wealth, Non-Profit, Prime Real Estate & more. We have been lucky enough to work with some fantastic BRANDS and are very proud of our CLIENT TESTIMONIALS, considering each of our clients as partners. We act as extensions to their teams, often working in house in consultation and as an integral part to the project.
Our founder, Anna-Marie Trzebinski, has an accumulation of 10 years in the events industry having worked across many different sectors and for some
brilliant companies. Anna-Marie has been Event Director for Oracle Open World 2019, A-List Celebrity birthday celebrations & Berkeley Homes internal
Conferences & Awards amongst other events. Anna-Marie's background is in fashion and design having graduated from the University of Brighton with BA
Fashion Textile Design with Business Studies. She went on to work and design in New York, style for editorials in print, work on designer shows for London
Fashion Week, style stars including a Pussy Cat Doll for the red carpet and print costume fabrics for the infamous Zandra Rhodes.

AMTEvents takes advantage of this style influence specialising in CORPORATE events, adding this exciting and developed creative USP for DESIGN into the
ethos of our event production for our clients. We offer an array of services including CELEBRATIONS & LAUNCHES, FASHION SHOW PRODUCTION,
CONFERENCING, PRIVATE MEETINGS, INCENTIVES AND INTERNAL COMMUNICATIONS. We go the extra mile to ensure the bespoke topper is on the icing of the
cake, ensuring the event is a memorable one for everyone.

As part of our services, we offer a luxury PRIVATE events service, which includes CELEBRATIONS & personal WEDDING planning adapted to each individual
upon consultation.

CREATIVE services are also available as part of an event package but can also be booked individually with the full list available on our website.

A handpicked talented contracting team work alongside Anna-Marie, enabling AMTEvents to be smart with budgets, guaranteeing the right people are
working on each individual project. On top of this AMTEvents works with a fantastic selection of key creative suppliers; each an expert in their field, ensuring
only the very best events are created.

That's #creativelyAMT!


Our Story so far…

In 2020 AMTEvents launched during lockdown with a fun and creative online virtual event to glowing reviews! Since then ,we have created and supported a
fantastic Linkedin event professional online community now with over 1700 members, delivering a full virtual training and networking programme, which we
continue to produce. We have created numerous virtual client events online, on various platforms with international attendance and received fantastic client
and attendee thanks. This Spring we designed and fashioned a beautiful hybrid wedding in Mayfair, building a wonderful London Hotel partnership in the
process. We moved on to create a live summer client hospitality unique experience day and design our tradeshow stand to be set for September at the Excel
London at The PA Show& International Confex.

AMTEvents are very much looking forward to what the restof 2021 has to bring and are excited to attend Mash Media's International Confex & The PA Show.

STAND: E25P

STAGE SESSIONS
International Confex - 'Launching During Lockdown'' Let's Do London STAGE– 02/09/21, Day 2, 12 noon
The PA Show – 'Creative Mood-Boarding', The Event Hub – 01/09/21 Day 1,2:30pm – 3:00pm & 02/09/21 Day 2, 10:30am & 11:00am

PRIZE DRAW
Be sure to visit our stand, say hello and SUBMIT YOUR DETAILS for our PRIZE DRAW to be in with a chance of winning a Corporate AMTStyling Day in London
paired with an afternoon tea and London's stylish Sketch! Once a stylist to a pussycat Doll and awarded 'Stylist of the Year' by Fashion's Finest, Anna-Marie
will guide and style your corporate wardrobe as our industry finally gets back to meeting in person!

SUBMIT AN ENQUIRY…
…and walk away with a stylish AMTEvents limited edition coffee mug!
Don't miss the opportunity to get to know AMTEvents and how we can creatively make your events, meetings and celebrations that extra bit special as…we
are like NO other!
Anna-Marie...X

AMTEventsglobal.com