14 Jan 2021
Aide in Chelsea: life as a PA to a HNWI, London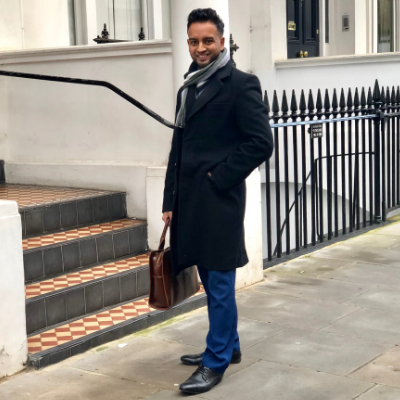 Hi Raju, tell us a bit about yourself: Who do you work for? What does your role entail? How long have you been there?
I work for an UHNWI and his extended family as a Private PA / Chief Of Staff. They are primary based in Saudi with regular London visits as they have vast business interests in the UK. They reside in Chelsea and I work from their household and also their Private Family Office. They consist of a generation of extended families such as parents, siblings and cousins. The Arab family world are very close knit, hence I work for the main Principal & the extended family.
The work entails many things on a day-to-day basis. Currently they are staying abroad during the lockdown for obvious reasons and staying in their respective countries, however when they are here, day to day consists of jobs such as: Personal shopper duties in Harrods/Boutique shops, Property management, holiday management such as sourcing private bespoke holidays, private charter, administrative work, occasional errands of school run; the list actually goes on but they are the some of the duties
I have been there just over 4 years, prior to that I was working in Banking & Finance and the lifestyle/concierge industry was something I was passionate about and got my dream job which consisted of hitting multiple setbacks to land this beautiful job with this family with zero experience, but I was determined to get the job I dreamed off as I believed in myself. Remember, if you believe in yourself, that's all that matters as it doesn't matter what others think.

What are your greatest challenges in your role?

Prioritising and communication - Sometimes two principals will tell me to do something at the exact same time and their both urgent, therefore I have to assess which one is more urgent.
Other times they will send me a voice note of something that needs to be taken care of with limited info as they're really busy in their day-to-day lives, so I have to put a puzzle together to execute what they really want me to do. It is a challenge, however there's nothing that cannot be done as long as you have the determination of getting things completed. After all that's what I am meant to do as it allows them to save time in their schedule.

What kind of training have you received? Personal or skills training?

I essentially haven't received any formal level of training within the industry, but to be honest for what I do, it hasn't been necessary. The nature of my job is to get things done; therefore, I basically get it done. The formal qualifications are great to have and I would welcome the opportunity, however for the undertakings of what I do, I use initiative and logistics to get the task complete. I come from a finance background from my previous roles in the bank and hold a degree in Accountancy, so this supports me do my job as the skills are transferable. I think that's also one of the reasons why I am with the family, I have real life 'business' experience in the outside world which plays a huge advantage within the lifestyle sector.


What kind of budgetary responsibility do you have? Where is your greatest expenditure?
I am quite lucky in the sense if I feel the family need something, whether it's a product or a service that is beneficial to them, then they would consider taking this up if it carries a positive impact to their life/business. I would assess the product/service, analyse how it helps them and if its suitable for the long term, then present it to the family after doing all the research along with the monetary figures.
For example, one of the apartments they own doesn't allow for air con units to be fitted due to alternations in the facade of the block as you would need to put an outlet outside, so I suggested this substitute product which costs in the region of £4000 - £18,000 (depending on options) to fit 'air con' inside their apartment. We trialled it in one of the apartments only, since it was a success and worked exactly like an actual aircon, we have begun to roll this out to other properties as a lot of buildings in the West End doesn't allow for actual aircon installations as you would be drilling holes to the outside of the buildings for the outflow which goes against the terms of their lease. I can't say too much about actual costs of the total, however you get an idea of the equivalence.

What advice would you give to other assistants when it comes to doing your job well?

I would say patience, mentally strong & being organised. It can be very demanding with different arrows being shot at you (arrows meaning tasks!), unless you are strong minded and have the patience, the job will eat you alive, it is very fast pace especially in the summer when they all come at the same time. You have to be ready on your toes and be 1 or 2 steps ahead of them at all times. Nothing will go to plan, it's just life, however this is where your intellect comes in and you have to be organised. Build a black book whom you can rely on, keep a close circle. I would say I have one of the best networks in the game and I have people whom I can rely on as I've used them on several occasions for business related matters. Being organised is really important otherwise everything will fall apart so it's really important to implement processes that you can use to do the job more efficiently. The work in which I personally do is not for everyone, I do not know many people in my personal contact list whom can do the job as I am there witnessing the hard work that goes on behind the scenes first hand and it can be really tough without the right skillset, ability and initiative to get things done to a high-level standard.
What does the PA Show mean to you?

To be a member on the panel is an honour. The industry does lack male voices and I hope me being a male in an ethnic minority group (British Bengali) working as a Private PA / Chief of Staff brings awareness to this industry as its unheard of generally. I am excited to be on board to meet likeminded professionals and share my journey and help others excel in their plan. I hope I can share some value from my experience thus far and also gain some new value from the other panellists / participants stories/journey/advice etc.
Find out more about The PA Show Advisory Board here