The 2022 Festive Hamper Gift Edit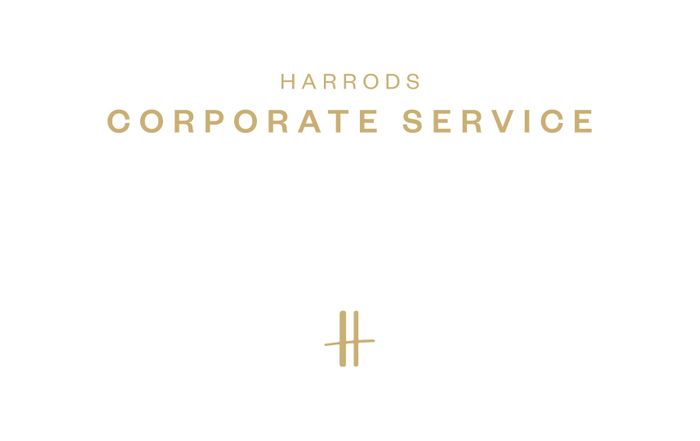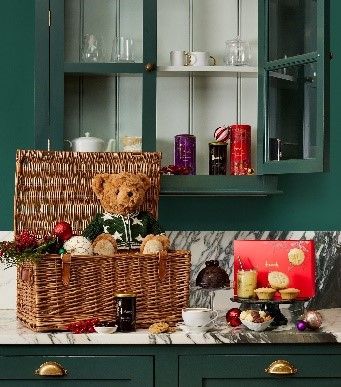 The Grosvenor Christmas Hamper- £175
Louie, the Harrods Christmas Bear for 2022, leads the line-up of indulgent treats in The Grosvenor Hamper from Harrods. In fact, given both Louie's presence and the charming wicker basket in which this selection is presented, it would be apt to think of it as something of a teddy bear's picnic – albeit with a particularly festive leaning. You'll find a carefully curated offering of sweet delights here, ready to be spread, nibbled, and sipped throughout the Christmas period.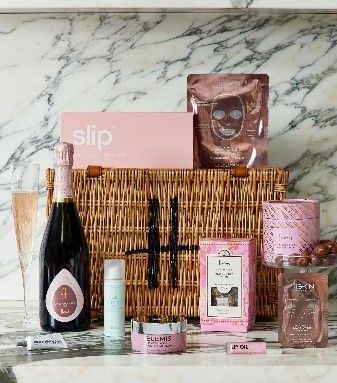 The H Beauty Hamper- £180
Feel your best in time for the festive season with The H Beauty Hamper – an assortment of pamper-ready beauty favourites, Champagne, tea and chocolate to indulge in. The Rose Cleansing Balm prepares your skin for the Rose Gold Sheet face and eye mask, while the Dermalogica Awaken Peptide Eye Gel soothes and depuffs tired under-eyes. Finish off with a layer of nourishing lip oil and Harrods' Red Berries No. 70 tea, before drifting off into sweet slumber with Slip's luxuriously soft silk eye mask.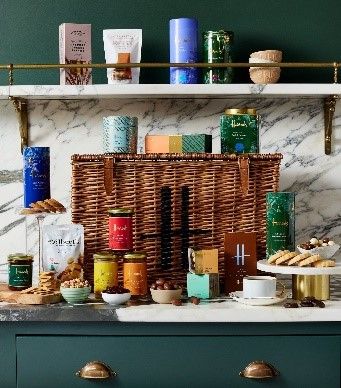 The Family Sharing Hamper- £200
It can be hard to please every member of the family, but that's a challenge that Harrods embraces with open arms. Behold The Family Sharing Hamper – a sumptuous selection that offers a delight for every palate, big and small. Cheese straws and nuts will satisfy those will savoury and salty tastes, while indulgent treats including fudge and hot chocolate have sweeter inclinations covered. Of course, no one need be confined to either sweet or savoury – there's plenty of each to go round.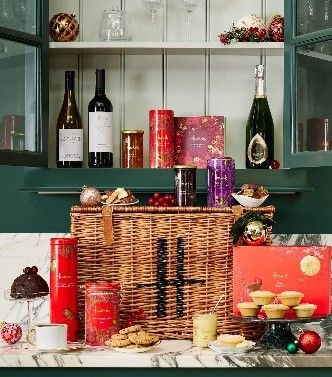 The Knightsbridge Christmas Hamper- £250
Nothing says Christmas quite like a Harrods hamper, and The Knightsbridge makes a fine choice for gifting this season. Inside the signature wicker basket, you'll find our classic mince pies, traditional Christmas pudding – with brandy butter, of course – plus chocolate, wines, and a bottle of Champagne to toast the festive season and beyond.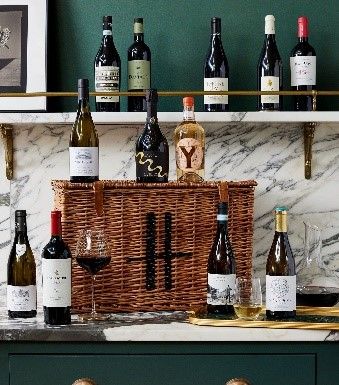 The Wine Celebration Hamper- £280
No celebratory moment is complete without a special tipple to share between loved ones, especially when it's been hand-selected by Harrods' connoisseurs for The Wine Celebration Hamper. Open the charming wicker basket – you'll be admiring it long after the last drop of wine has been enjoyed – and savour a selection of 12 wines, from a bubbly, well-rounded Prosecco, and smooth Malbec to a wonderfully fruity Sauvignon Blanc.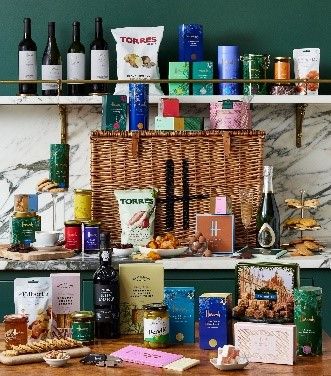 The Ultimate Celebration Hamper- £500
Anyone who receives Harrods' The Ultimate Celebration Hamper will put a last-minute soirée in their calendar just to enjoy its contents. Within a monogrammed wicker basket – perfect for alfresco get-togethers and impromptu picnics in the park with family and friends – you can expect to find all you need to satisfy every tastebud, from hand-picked wines, expertly blended teas and coffee, and a joyous selection of sweet treats, preserves, savoury goodies and more.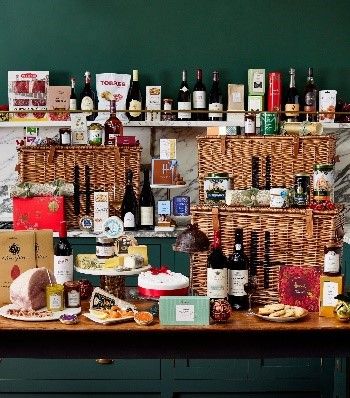 The Harrodian Christmas Hamper- £2,500
The Harrodian − our namesake hamper – is what dreams are made of. Its three wicker baskets are brimming with crowd-pleasing delights; opening each one is like strolling through our iconic Food Halls. Chocolates plucked from our gleaming display cases, charcuterie and cheeses passed on from specialists with a smile, teas, jams and biscuits selected from their seemingly endless shelves, and, of course, several lovely vintages to tie the luxurious Harrods experience together.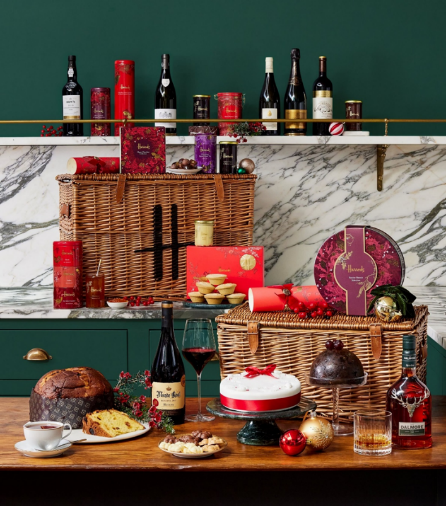 The Celebration of Christmas Hamper - £800
Taste is a powerful thing, especially when it comes to evoking thoughts of Christmases past. The spicy comfort of Christmas pudding, the aromatic warmth one gets from a sip of whisky, the sweet delight found through your favourite chocolate in the box… each mouthful is a memory. The Celebration of Christmas Hamper not only brings together an array of festive favourites – think everything from your favourite tipple to chutneys to accompany your Boxing Day lunch – but also captures the pure, unadulterated delight that Christmas and its delicious delicacies bring us, year after year.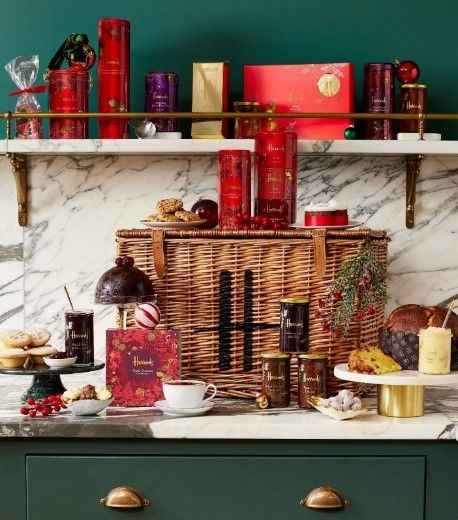 The St. James Christmas Hamper - £350
No Christmas celebration is complete without an array of indulgent festive treats. With everything from tea, coffee, chocolate and preserves to biscuits, mince pies and cake, the St James Hamper by Harrods ensures there is something to satisfy every family member's seasonal craving. Plus, it's presented in a signature wicker basket that's sure to be kept long after all the treasures inside have been devoured.
Harrods Hampers can be delivered within the U.K and Internationally.
For more information or to place an order, please contact the Harrods Corporate Service Team by emailing CORPORATE.SERVICE@HARRODS.COM