Janitorial & Feminine Hygiene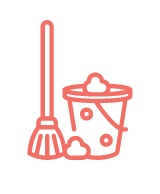 We provide our clients with Janitorial & Feminine Hygiene Services to allow them to easily manage their cleaning consumables and hazardous waste removal needs.
Our Janitorial and Feminine Hygiene Services make it easy for our clients to manage their cleaning consumable needs, as well manage the removal of any hazardous waste from their premises. Our services range from sourcing black sacks to ordering hand soap. We take control of the situation managing your logistical supply chain meaning you will not have to check stock or place any orders moving forward. You simply need to work out a delivery schedule that works for your business. We also put an emphasis on finding eco-friendly and biodegradable products.
Our Janitorial and Feminine Hygiene Services are tailor made for your organisation depending on your size and overall need. Our services include:
Sourcing and purchasing of cleaning consumable products
Managing the logistical supply chain
Advice on the best cleaning products available including eco-friendly and biodegrade products
Installation of air freshener systems
Supply of Feminine Hygiene bins
Collection and removal of Feminine Hygiene bins