09 May 2021
How to Use Microsoft Teams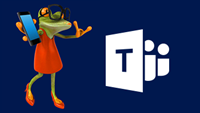 Microsoft Teams is a very powerful collaboration and communications tool.
When you know how to use it – and get the best out of it – you will notice the difference.
And probably wonder why it took you so long to take advantage of its features.
It means time saved. Less hassle. Less stress.
It means less toing and froing between applications to get tasks done.
It means you are more in control and cleverly on top of everything.
Your clients will love it, too. And you can show them how to use it so everyone benefits.
A simple win-win.
Take my course to learn how to make the most of it.