Craft Beer & BBQ Box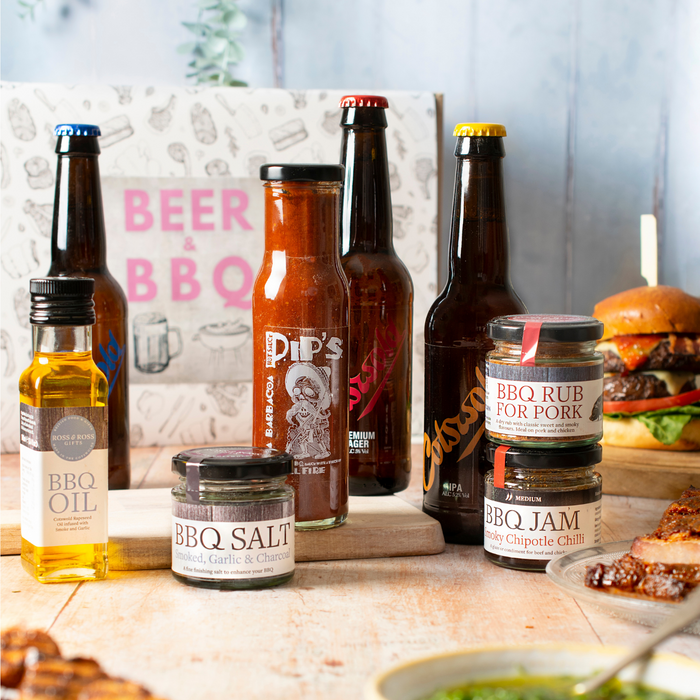 We have sourced the finest beer around and included our customers' favourite barbecue products from our British BBQ Range. The BBQ Salt is ideal for sprinkling on a steak. The BBQ Rub for Pork is the perfect accompaniment to anything pork. The BBQ Jam is a delicious glaze for adding on top of meat and the BBQ Oil is used for the cooking process.
This hamper is the ideal self-gifting idea if you are the one that enjoys hosting the epic BBQ's or the perfect foodie gift to give to someone who is obsessed with a BBQ.
Includes our award-winning BBQ Salt.
This hamper includes our award-winning BBQ Salt that won 2 stars at the Great Taste Awards 2017.
Includes:
Original BBQ Oil (250ml)
Original BBQ Salt (50g)
BBQ Rub for Pork (50g)
Smoky Chipotle Chilli Jam (110g)
Pips 'La Barbacoa' BBQ Sauce (250ml)
Premium Cotswold Lager (5.0%, 330ml) by The Cotswold Brewing Co. - A smooth, subtle lager with a soft, fruity flavour. Additive-free, preservative-free and unpasteurised for the freshest, truest possible taste.
Cotswold IPA (5.2%, 330ml) by The Cotswold Brewing Co. - This leads with a burst of citrus flavour, a touch of sweet honey and caramel, balanced by a smooth bitter finish. This is a flavoured-packed and eminently refreshing beer.
Helles Cotswold Lager (5% ABV, 330ml) by The Cotswold Brewing Co. - This Bavarian-style Helles lager has been left unfiltered which results in an intense aroma and a full-bodied malt flavour.
NOT gluten-free.
Dairy-free and suitable for vegetarians.