Outdoor Corporate Team-Building with Bright Vision and Borrow my Garden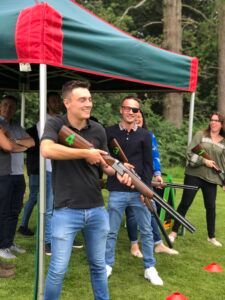 Corporate team-building events are a real focus for us here at Bright Vision Events, and since the Covid pandemic, we have seen a lot of growth in outdoor corporate team-building events.
The continuing trend for outdoor Corporate Team-Building
Unsurprisingly, outdoor events were the first events to make a comeback as the various lockdowns were eased and we are delighted to report that this trend has continued. With such a demand to satisfy, finding the right outdoor space has become more important than ever.
Finding outdoor Corporate Team-Building locations
And for finding outdoor event locations, we always turn to our friends at Borrow my Garden. Their selection of landowners is essential, especially since our clients plan their outdoor events for 2023 and beyond.
This is why we're confident when we plan our outdoor corporate team-building events and are unphased by the Great British Weather.
We rely on the outdoor event venue search facility provided by Borrow my Garden.
The Right Outdoor Space is Key
Going ahead with your outdoor Corporate Team-Building event
Once the decision has been made to go for an outdoor event, and the client has decided which one to choose from our wide range of team-building activities, the pre-event planning swings into action. When planning team-building events and activities, the pre-event stage is just as important as the day itself.
Key Stages for outdoor Corporate Team-Building events
From the initial enquiry
From the initial enquiry, our team-building event manager will discuss the client's requirements for the event. In particular, we want to know what their aims and goals are and what the client is looking to achieve from their corporate event. Is it a serious team build focusing on communication and teamwork, or is it something different, fun, and rewarding they are looking for? Once we understand the client's objectives, it is much easier to construct the best possible solution and find the right venue.
Discussing key details
We then discuss key details such as numbers, budget, location, date and time. This helps us guide the client towards the most suitable, appropriate and creative activities to enhance their outdoor team-building day.
Ongoing planning and preparation
Once the main activity solution has been chosen, ongoing planning and preparation are key. We will continue to liaise with the client before the event day to ensure everything is in place to ensure success.
Venue selection
This critically important stage of outdoor Corporate Team-Building must include selecting a suitable venue with some shelter.
Planning for wet weather, of course, means selecting the venue is vital. This is where Borrow my Garden comes in. The nationwide outside event venue database has many outdoor spaces to choose from. The varied choice includes "castle grounds, show-grounds, farms, race-courses, islands and private gardens."
Showground
Stress-free turnkey approach
Once we have chosen the venue, we will be in regular direct contact with the venue owners. This removes a time-consuming and potentially stressful responsibility from the Client. It also enables our event manager and the venue's team to work together to plan the logistics, including entry and access for set-ups, plus of course, the health and safety aspect. Clients appreciate this turnkey approach.
How to beat the weather for Outdoor Team-Building Activities
The first thing to say is that many team-building activities can be run outdoors – even in the rain! However, we know that for the comfort of our clients, they are not always happy to be outdoors getting wet or cold, or both! Which is why we always plan with the weather in mind.
Our experienced and professional event managers will always discuss an indoor contingency option with our clients. This means, of course, that the choice of venue is important, as it might well need to offer an indoor space option if required, which many of the Borrow my Garden venues do.
It is true that with some of our outdoor activities, it is not always as easy as saying we can bring the activity indoors. We are not sure the venue would appreciate Duck Herding in a conference room, for example! Therefore, it is part of our service to plan and organise an indoor contingency, which fulfils the original brief (even if it isn't the same type of event), to ensure that we deliver the best possible event on the day should the heavens open.
As always, everything is in the planning.
Everyone's included
Outside corporate team-building events designed to suit everyone
We design our outdoor team-building events to suit everyone. It is essential that the participants in our team building days enjoy their activities and can bring the positive influences of the day back to their workplace.
We always emphasise collaborative efforts. Our challenges are not about rewarding the victors or humiliating the losers but about engaging everyone taking part to think, plan, discuss and operate as a group to achieve the desired goals.
A fantastic array of outdoor team-building activities is on offer
We have a fantastic range of outdoor team-building activities to offer, from our Labyrinth Challenge, Alternative Olympics and School Sports Day right through to Treasure Hunts, Duck Herding and Archery.
What Bright Vision's clients say
GSK – mixed activity event
"The team had a great time, and they enjoyed the mix of physical and 'brain' activities. The Segway and shooting activities were definitely the winners. We could not have started our long week of meetings more differently. Thank you very much for providing the entertainment."
Computacenter – The Labyrinth team-building activity
"Thanks again, Bright Vision. The afternoon went down really well, and we appreciate how engaging and fun you make it for everyone! Hopefully, we will be in touch again in the future."
Relex Solutions – Country pursuits, laser clay shooting, duck herding and more
"The people that I have spoken to have said that they thoroughly enjoyed the whole event! It sounded like it was a total success from start to finish and I will pass on any further positive feedback."
As Managing Director of Bright Vision, Ben Hull, said of this event:
"For much of the Covid lockdown period, we provided online team building events, which we expect to continue, along with a growth in hybrid events. However, this event for Relex Solutions in August 2021 was a return to more traditional outdoor team-building event management. It showed that there is a growing demand for such tried and trusted team-building favourites as Country Pursuits, Archery & Crossbow, Laser Clay Shooting, Duck Herding, Gun Dogs, and Ferret Racing, as well as the likes of Alternative Olympics and the Labyrinth."