17 Aug 2022
M Canary Wharf: First look at group's flagship grill, serving 100 per cent carbon neutral steaks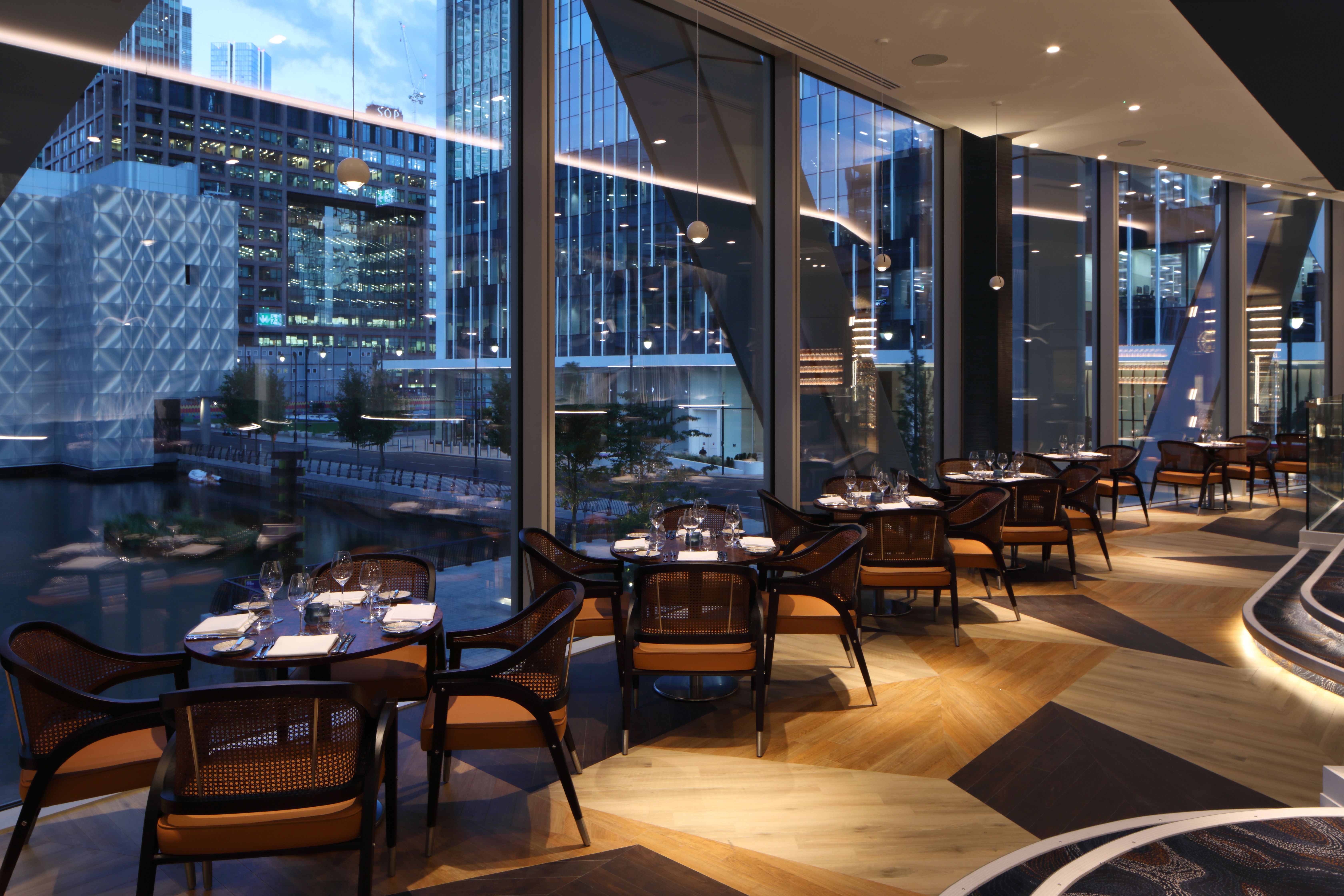 M Canary Wharf — the flagship opening from Rare Restaurants, which counts other M sites in Victoria Street and Threadneedle Street, as well as the Gaucho chain — will launch on the first floor of Newfoundland, the tallest skyscraper in the E14 postcode.
M Canary Wharf hopes to fill that gap. Steak is the star of the menu, with the most impressive cut coming in the form of a £150 Kobe Grade 10+/A5 fillet, proudly described as "the highest grade of Kobe available in London".
Other top-quality cuts are on offer — from a Beeswax Blackmore Grade 9++ sirloin, farmed in Australia, to a highland wagyu sourced from Perthshire in Scotland — but they all share one thing in common: the beef is 100 per cent carbon neutral.
This is not a new pursuit for Rare. When the Charlotte Street branch of Gaucho opened in 2019, it became the UK's first restaurant to offer carbon neutral beef, and now each of Rare's 22 restaurants do likewise.
It's the result of a "six-figure project", Williams says, "to calculate exactly the carbon output and methane output of all our steaks", working alongside a team of scientists and agronomists to see just how large of an environmental footprint Rare's beef was making "from birth to plate, including transportation".
"We're looking to reduce that at source with all of our farms," Williams adds, "but at the same time recognise, ultimately, there is always going to be a carbon footprint. So we've looked for a way to offset that."
It brought them into partnership with an organisation called Not For Sale, which works globally to support victims of modern slavery and human trafficking, and prevent people from getting swept up in it. Rare is working with Not For Sale on 12 projects in South America, largely focused on reforestation in the Amazon, hiring indigenous locals to help with the effort. Williams himself is travelling to Peru next month to visit an Amazonian village involved in the initiative.
"By employing them to plant trees, we're giving them a livelihood, which basically takes them out of danger of becoming victims of slavery — because they have a job, they have money and they're not selling their children to these traffickers," Williams says. The process allows Rare to offset its carbon footprint in the area, with the very welcome opportunity to combat deforestation and improve social wellbeing while they're at it.
M Canary Wharf's sustainability will focus closer to home, as well; much, much closer, as it turns out. Some of the restaurant's herbs, leaves and baby vegetables will be grown in partnership with Crate to Plate, a London-based urban farm which uses a soil-less method to cultivate its crops, cutting down on space and water usage compared to traditional methods.
And one of Crate to Plate's containers is a mere stroll away from Newfoundland. "We literally just walk there every morning and then after lunch service," says Williams. "You're picking something and serving it straightaway, like having an allotment in your garden." It means there's zero carbon footprint in terms of transportation, and there's no need for packaging. Plus, as Williams adds, "the flavours are phenomenal because it's incredibly fresh".
All of this will be enjoyed within the restaurant's glitzy surroundings, which has followed a Provençal inspiration for its big-money interiors. "All the decor's inspired by yachts, the Mediterranean, Lake Como, Saint-Tropez… the menu's got a very heavy influence of Provençal cuisine on it," Williams says.