19 Dec 2022
The Future of SME Business Travel is Bright, says Corporate Traveller UK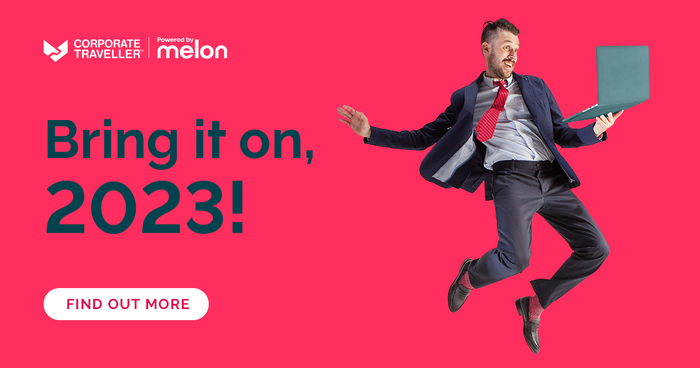 Ensuring recovery with the start of a new era
In 2022 alone, Corporate Traveller UK has welcomed almost 600 new clients from all industries, with just over 20% being from the finance and technology industries. They have also seen a boom in new clients from the entertainment and creative sector including familiar names including the Royal Academy of Arts.
The industries that kept the business travel 'lights on'
Although travel came to a halt during the pandemic, Corporate Traveller was able to support customers with their essential travel needs and navigated them through the minefield of travel during the COVID years. Those from the marine industries were able to travel the most, however, understandably, healthcare and pharmaceuticals were in the top five.
Ensuring those with specific travel needs were able to continue travelling was important to the business and Corporate Traveller's expert travel consultants used their years of experience to guarantee traveller safety during an uncertain time.
Popular business travel destinations remain consistent
The capital remains the top domestic destination for Corporate Traveller's customers, with Manchester coming in second. Internationally, New York has retained its top spot, thanks to its enduring appeal and the reopening of the transatlantic corridor in late 2021. While pre-pandemic favourite Amsterdam was nudged back a place, but still generated 3% of international bookings in 2022.
When comparing the top destinations this year to pre-pandemic 2019, Corporate Traveller's clients have mainly chosen to continue travelling to the familiar global business capitals. A couple of new entries to the top 20 countries have been South Africa, which saw a 50% increase in travellers compared to 2019, and Saudi Arabia, which saw a 67% increase in bookings. For both countries, this could be due to the continuous investments being made to enhance visibility on the global business stage, in addition to ongoing trade deals.
Trips are getting shorter, but better
The average trip duration for clients across the board has decreased by two days, showing that SMEs are condensing their trips. Interestingly, premium air travel remains a priority for UK travellers, with 66% booking business class in 2022, marginally up on prepandemic travel.
What does the future hold?
The majority of Corporate Traveller's customers have favoured domestic and European destinations throughout 2022. There could be a number of factors, but it is likely to be largely due to the airline capacity levels for international destinations and carriers. For 2023 bookings, there has been an increase in capacity levels, which is another step forward to full business travel recovery.
Additionally, Corporate Traveller is eagerly anticipating the return of Chinese carriers in 2023, as this will enhance competition in the aviation market. This could mean airline prices will level out, becoming more manageable for growing SMEs.
With the carriers returning and capacity levels increasing, the fantastic news will be that SMEs will be able to have more of their people travelling more often.
Donna Joines, General Manager of Corporate Traveller UK, is upbeat on the outlook and the essential role that TMCs play in supporting SMEs on the road to recovery.
"With business travel bookings now exceeding pre-pandemic levels, there is little doubt that SMEs are playing a huge role in economic recovery. The world has changed, which for budget conscious SMEs, has created a more confusing environment and reinforced the need to have a travel pro by your side.
"This need is echoed in the uptick in the market-share growth Corporate Traveller has achieved in the UK over the last 12 months through the retention of existing customers alongside a record-breaking number of new clients seeking the company's expert travel services.
"Looking to next year, all signs point towards the continued recovery of the industry. With more destinations opening up, capacity increasing, and our clients eagerness to travel - I'm confident 2023 will be a fantastic year for us and our customers," added Joines.
About Corporate Traveller
Corporate Traveller is the only global TMC catering exclusively to start-ups and mid-market businesses. Established in 1993, the company is present in six countries where it provides expert tailored advice, dedicated travel managers, and innovative, advanced booking technology to more than 16,000 customers worldwide in a typical year. Being part of industry powerhouse the Flight Centre Travel Group, access to a competitively priced, truly global inventory alongside added-value benefits and exclusive deals comes as standard. Corporate Traveller recently unveiled Melon – its new proprietary, on-the-go travel management platform featuring intuitive navigation and a seamless end-to-end online experience to help customers easily book, manage, and measure the performance of their business travel programmes.